I moved to Blaine Washington from Bellingham in 2009. I was in Bham about 27 years.

I build custom and standard classical guitars (and beyond*). Customizations include 7 and 8-string guitars, left-handed instruments, cutaways, and other special customer requests such as the short-scale 11 string harp guitar I am presenting in the photo. My instruments have reached a very high level of craftsmanship, playability, and sound.

Professional players include James Bishop Edwards, David Feingold, Anna Pietrzak, Alieksey Vianna, Jacek Kado, Stanton Jack, Alain Reiher, Takayoshi Sakai, Huayna Jimenez, Nacio de Falla, Chad Nuckles and others. I have ongoing relationships with many other professional players who regularly give me feedback on my instruments.

I have exhibited instruments at events, including the Healdsburg Guitar Makers Festivals, GFA (Guitar Foundation of America) Convention, Portland Guitar Festivals, Northwest Guitar Festival, La Guitarra California and GAL conventions.

My instruments have been featured in books including Custom Guitars and Luthier's Art : A Showcase of Handcrafted Fretted Insturments .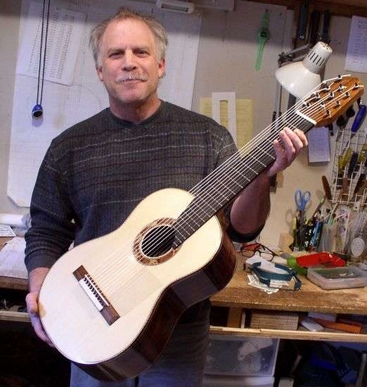 Why? Love. I am motivated by a love for craftsmanship in wood and the sounds of guitars making music. I play well enough to put my guitars through their paces. I have played in ensembles with other guitarist, and cello, and South American instruments. I am active in the Northwest Classical Guitar Society and a member of the Vancouver Classical Guitar Society. I am always trying to improve my skills at listening, playing and, building of guitars. I love it when my customers are making music. Heck, I just love Guitar! I built my first guitar in 1970 with John Roberts in Arizona before the Roberto-Venn school was established. I was 19 years old. I have many other individuals to acknowledge in my building development. Bellingham

luthiers

John Rollins and

Dake

Traphagen. World reknowned luthier Jos? Romanillos

. I could go on....there are many others!


If I told you that love of guitar has literally saved my life, would you believe me?