Tag Archives:
french polish
"French Polish" is the finish most often found on hand-built classical guitars. French polish is a process, a combination of shellac and how it is applied to the guitar. It is not a product that you can buy at a … Continue reading →
One of the nice things about french polish shellac is that it can be refreshed. So, after Batuque got it's back repaired and replaced, I began give it a refreshed finish. It looks pretty good. Not perfect, but it's not … Continue reading →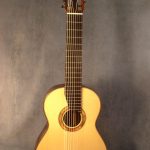 This gallery contains 16 photos.
Here's the pun. Nacio's 8 is finely done.